【We are 3x3】Player's VOICE:Ryan Tana Multiple identities creating opportunity: A Japanese American basketball player's journey in Japan.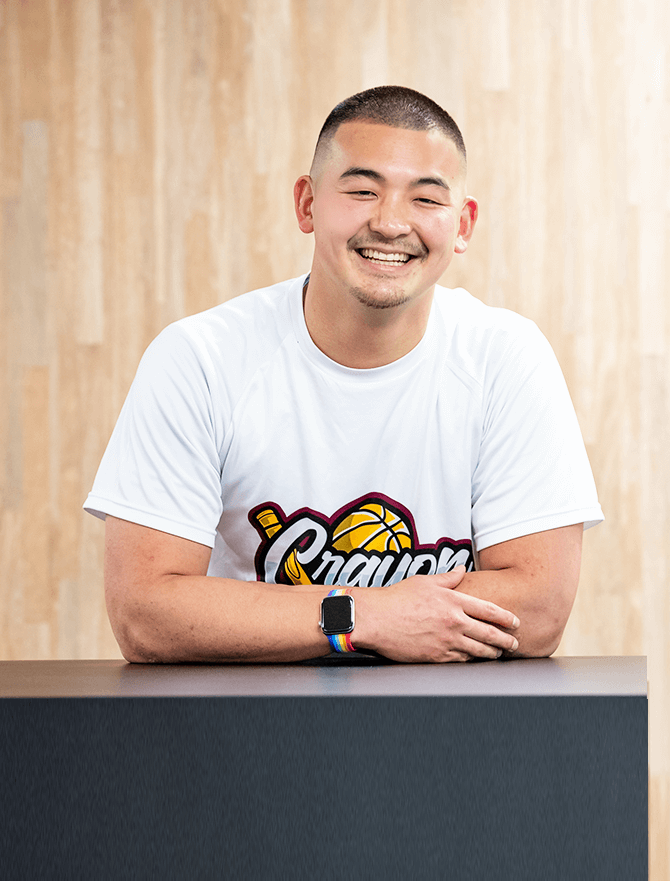 Multiple identities
creating opportunity:
A Japanese American
basketball player's
journey in Japan.
Ryan Tana
TOKYO CRAYON.EXE
posted 2021/03/18
A 4th generation Japanese-American born in New York City. This is just one of the elements that make up Ryan Tana. Through various experiences in Japan, such as a language teacher, an employee of a global IT company, and a player of "TOKYO CRAYON.EXE", his identity has continued to change fluidly without being conventional. He talked about some of his personal values to continue expanding his potential continuously.
A basketball player's
journey to Japan
When did you start living in Japan?
I moved to Japan when I was 22 years old. I had only visited Japan once before then. I was born in New York but mostly grew up in San Francisco, and then I went back to New York to study at New York University. I learned Japanese there for the first time for two years. I've loved basketball since I was about 3 years old because of my father's interest in sports. I was so crazy about Michael Jordan that I kissed the TV screen when he was on TV! From that age had always played basketball throughout my young life.
How much did you focus on basketball when you were a student?
When I was a teenager, I dreamed of playing in the NBA, and I went to a high school that produced a lot of professional athletes. I played in a very competitive league in which a couple guys who went on to play in the NBA. My senior year we were second in our league. HS practices were tough, but I learned a lot by playing various positions and taking on the role of captain. I chose New York University, which initially didn't recruit me for basketball, so I needed to try out for the team. After making the team, I played a total of 3 minutes my freshmen year, but I gradually became recognized for my ability towards the end of my first year. I became a starting member in the second year and a captain in the third year. My junior year we made it to the NCAA and, our team made it to the second round. Various successful experiences gave me even greater confidence going forward.
You graduated NYU with a spectacular track record in basketball, and you came to Japan right after that. What is the reason for that?
When I was looking for a job post college, I was interested in living abroad because I wanted to challenge myself in an environment I was unfamiliar with. With that thinking, I had no choice but to go to Japan. I'm a Japanese American and wanted to know more about Japan, where I have my roots. I also thought that through living and immersing myself in Japan, I could somehow connect with my Japanese grandparents, who passed before I was born. I imagined that if they saw I was speaking Japanese, they would be very proud. Then I applied for the JET Program to go to Japan.
Forging a career in
a foreign country
What kind of activities did you do in JET program in Japan?
Through JET program, I taught English in Kobe, and I taught classes at junior high school four times a week and at elementary school once a week. The reason I chose Kobe was I got interested there because it has a similar name to the famous NBA player Kobe Bryant. I really enjoyed my life in Kobe. In addition to class, I taught basketball, played the trumpet with the brass band, and participated in the art club with the students. There were about 1000 students, but I was involved with various students. I was able to build relationships with them, so the lessons were very meaningful. I really love that time.
Why did you decide to stay in Japan after completing the JET Program?
At first, I was planning to go back to USA after the one- or two-year contract period, but I was introduced to some places of employment through the JET Program, and one of them was a scout from a global IT company. I thought I could learn a lot there and it would definitely help my career, so I decided to move to Tokyo and start working there instead of returning to USA. Currently, I'm working as a store manager in Tokyo. In order to deliver the best experience to our customers, I develop staff and focus on various business strategies that impact internal and external customers.
Are there any skills you have learned or acquired that help your current job?
There are so many! Through basketball, and teaching many students, I have been able to develop leadership skills by building relationships with diverse members of a variety of ages, nationalities, passions, and ways of thinking. My current workplace is more diverse than any other community I've ever had, so my experience is alive and well. What is important for building relationships is to open yourself up and make yourself vulnerable. I think it is impossible to build a relationship of trust with the idea of telling others to do something that I wouldn't do. I don't think anyone can work comfortably in such a situation. This is what I learned through the experience on many different basketball teams.
Encounter 3x3,
going up
to the world stage
Please tell us how you encountered 3x3.
I first experienced 3x3 when I was in Kobe. When I first arrived in Japan, I had no plans to play basketball, but through fate, I was introduced to a fairly strong club team called BUBBLES from a mutual friend in the JET Program. From there, my basketball network in Japan started to expand gradually. During that time, I became acquainted with Matthew Kyle, who was playing 3x3 player at the time, and watched a 3x3 game for the first time in 2014. My first impression was "What is this?" but it seemed interesting – later on, I participated in an open 3x3 tournament and had a lot of fun. It was after those experiences and after moving to Tokyo when I met Yoshi Someha, the owner of "CRAYON.EXE". I met Yoshi through various Tokyo pickup basketball sessions with other ex-pats. I am very lucky to have had encountered and found many basketball opportunities!
You are now an indispensable player for 3x3.EXE PREMIER. You won the "3x3.EXE PREMIER JAPAN 2020 CUP powered by Sun Chlorella"in October 2020 and participated in the world competition "FIBA 3x3 World Tour Doha Masters" in November. What do you credit to have achieved such results?
I think one of the most important things is having a good balance to the team. Big man Kyle Richardson has a tremendous footwork and shooting touch for a player his size. His low-post game is very strong, so if he gets double teamed, that allows for our other perimeter guys to create space and attack freely. We can all shoot from the outside, and we are quick on defense. We would like to continue our growth as a team so that we can participate in the world championships in the future.
Multiple identities
make the
life exciting
What kind of things do you want to work on in the future?
As a member of "TOKYO CRAYON.EXE", I want to continue to appear in FIBA World Tours while aiming to be the top team in Japan. All the while I'll continue to develop professionally within my career! I want to develop new skills and experiences so that I can have options when I return to USA eventually. I've always been passionate about various things, so when I play basketball, work at a great company, I definitely want to experience things to the fullest. In order to continue achieving that, I think it is important to develop human skills that can be used anywhere. "Failing to prepare is preparing to fail" and "Tough times makes you tougher". I learned these words from my high school basketball coach Chuck Rapp, which I hold close to my heart.
I think many people should admire you, because you have multiple communities in the U.S., and in Japan and also enjoy your own life. Please give some message to such people.
Since coming to Japan, I've always had a "yes" mindset; if I get offered or invited to something that I am not sure of, I still say yes. You never know what it could lead to, but saying "no" eliminates all possibilities from happening. As a result of that mindset, various amazing opportunities have come and have enhanced my experience in Japan, so I recommend having that mindset! The next important thing is to have a flexible mind and perspective on things. If you accept the other person and communicate flexibly, you will be able to gain new values and expand your worldview. In my case, when I'm in USA, Japan, or when I'm with friends from overseas in Japan, I can change my style flexibly. I have various identities, but all of them are my true self. That's why I think I can truly enjoy anyone's company anywhere.
Ryan Tana
Born April 13, 1992, from New York, USA. He came to Japan after graduating from New York University. He has joined the 5-on-5 basketball team "BUBBLES" in Kobe since 2014. He joined 3x3.EXE PREMIER "TOKYO CRAYON.EXE" in 2016. In October 2020, his team won the "3x3.EXE PREMIER JAPAN 2020 CUP powered by Sun Chlorella" and also participated in the "FIBA 3x3 World Tour Doha Masters" held in November. 190 cm and 90 kg.
Text by Hidehiko Yamane
Photograph by Mao Shimizu
Photo Provided by 3x3.EXE PREMIER